Meet Our Kids
Friendship is an important part of a child's social‐emotional development. From our friends we learn to share, to listen and to express our feelings. But most importantly our friends give us a sense of belonging. Read up on some amazing friendships that have been developed through The Friendship Foundation and by the support of the SKECHERS Friendship Walk.
PHOTO CREDITS: Lauren Pressey Photography
---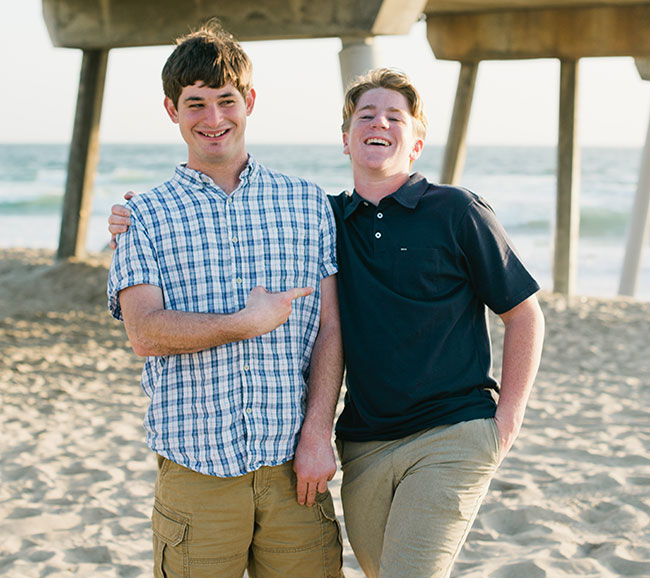 Trey & Sean
I have been volunteering at Friendship Foundation for about two years and I enjoy every event. The friendships and memories I have made are a blessing I will cherish for years to come. I am thrilled to be a part of Friendship Foundation and all the great things they do for the community. I got involved with the organization because I wanted to find a volunteer opportunity where I could interact with kids in a fun environment. I then heard about Friendship Foundation and thought I would try it. I now try to volunteer as much as possible. My favorite program to volunteer for is movie night. We play games, watch a movie, and eat pizza all the while making new friends. It's so cool seeing every kid feel more comfortable in their own skin. It is such a rewarding experience and I would encourage everyone to try and volunteer at Friendship Foundation!
The bond I have with each of my buddies is so amazing. Seeing them smile and playing with friends in a welcoming environment is a feeling like no other. I met Sean at Movie Night #3. We usually play air hockey, foosball, basketball and various card games right before we watch a fun movie together. Sean is so much fun to be around and full of energy. When I volunteer I have just as much fun as my buddy! These relationships are extremely important to me and I will never forget these friends for as long as I live. -Trey
---
Help create more friendships: Donate Now
---