Friendship is an important part of a child's social‐emotional development. From our friends we learn to share, to listen, and to express our feelings. But most importantly, our friends give us a sense of belonging. Read about some amazing friendships that have been developed through The Friendship Foundation and by the support of the SKECHERS Friendship Walk.
PHOTO CREDITS: Lauren Pressey Photography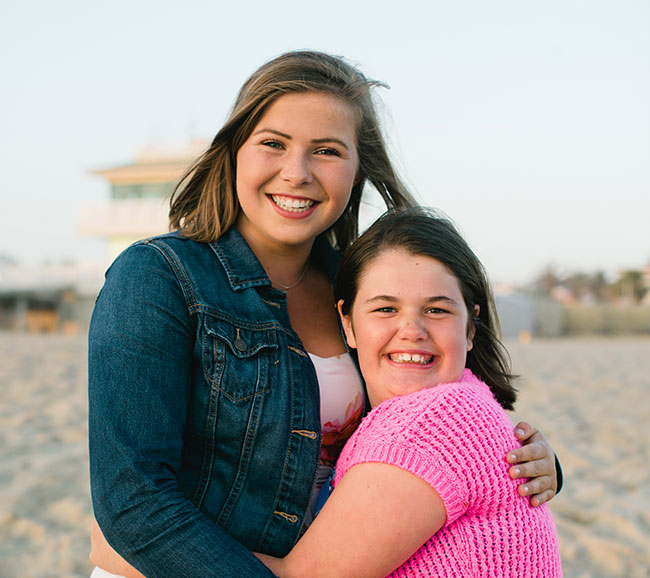 Emmy & Madysen
I joined the foundation in hopes of finding that "something". For some it may be a youth group or club team, but for me, it was the Friendship Foundation. My search began at beach camp in 2014, nearly three years ago, when I found my something. I joined FF looking for a fun way to pass time, but I stumbled upon a gold mine. I could have never imagined joining something and feeling the way FF makes me feel, but now that I have, I cannot imagine my life without it. Elyse, one of the Friendship Foundation staff members, enlightened me a few days ago that community is a family, and I now know that the FF community are the people I am proud to call my family.
My buddy is Madysen and I am proud to call her my girl. She introduced herself as everyone should, with confidence and style, and in that moment I knew I wanted to be her friend. We first met at Movie Night #1. Her gregarious and comical personality had me smiling the whole time. Although I have not been able to see Madysen as often as I wish I could, I relive our times together and continue to find the joy in our hilarious moments together. I am lucky enough to have met this special human being early on in life and I hope that our friendship last forever. -Emmy
Help create more friendships