Friendship is an important part of a child's social‐emotional development. From our friends we learn to share, to listen, and to express our feelings. But most importantly, our friends give us a sense of belonging. Read about some amazing friendships that have been developed through The Friendship Foundation and by the support of the SKECHERS Friendship Walk.
PHOTO CREDITS: Lauren Pressey Photography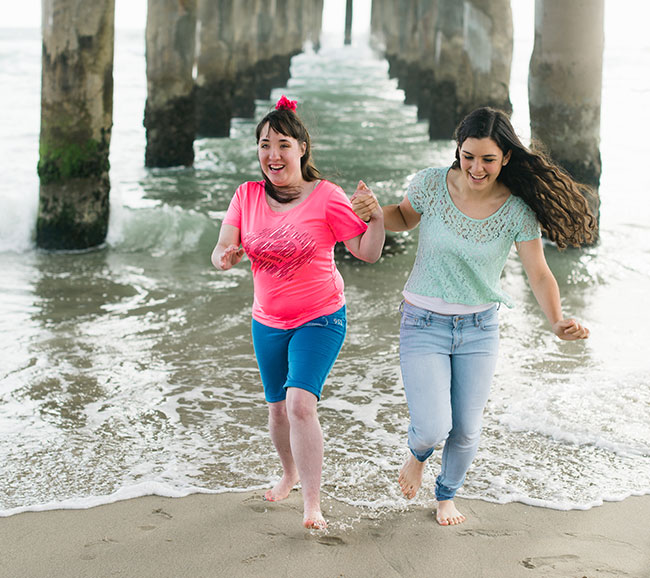 Gaby & Jessica
Being a volunteer at the Friendship Foundation has come to mean so much to me. I truly love hanging out with the kids and noticing each quality that makes them unique. All of the relationships that I have made are really what makes volunteering here something that I will never forget. It is so special to be able to be a part of something like the Friendship Foundation where the staff, volunteers, and participants are all so accepting. Whenever I leave an event whether it's Movie Night, Birthday Club, a Jr./Teen Adventure trip, or a summer program, I am always smiling and have so many stories to tell.
I am so grateful for all of the friends, like Jessica that I have made who I can count on to brighten my day. From the first day we met at Birthday Club, it has been so easy to just be myself and talk about anything with her. If I ever want to discuss SpongeBob or how annoying Chloe from The Fairly Oddparents is, I know who to go to. Jessica is a loyal friend and someone who I really enjoy spending my time with. Her genuine kindness reflects onto others, including myself.
The experiences that I have had with Jessica and everyone at the Foundation will always stick with me, and have definitely made me recognize the little things in life that matter the most. -Gaby
Help create more friendships