Friendship is an important part of a child's social‐emotional development. From our friends we learn to share, to listen, and to express our feelings. But most importantly, our friends give us a sense of belonging. Read about some amazing friendships that have been developed through The Friendship Foundation and by the support of the SKECHERS Friendship Walk.
PHOTO CREDITS: Lauren Pressey Photography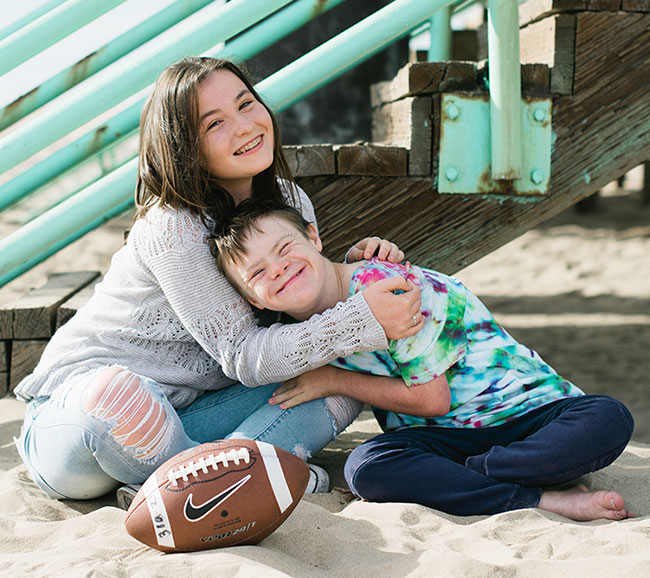 Tia & Eric
When I first began volunteering with Friendship Foundation back in the summer of 7th grade, I didn't know what to expect, but within ten seconds of arriving at Beach Camp and meeting my buddy and my fellow volunteers, any of the fears I may have had previously harbored were promptly abolished. Not only was everyone there exceptionally sweet and tremendously helpful but I also had the best time ever.
Friendship Foundation has continually been an amazing opportunity for me to take a break from my schoolwork and other obligations to party it up with the coolest kids I'll ever know. After that first summer, I knew that I had found my thing. I fell in love with the atmosphere and all of my friends there. Every time I go to an event I know that I will always leave happy. Friendship Foundation has made me a happier and better person and has pushed me to step out of my comfort zone in ways I would never have imagined.
I met Eric at Camp Got Friends last year and we became the fastest of friends. Eric inspires me every single day to be the best person I can be. His laugh makes my day, and the dude's got moves. I truly see Eric as one of my best friends, and seeing him dance never fails to make me smile. He lights up any room he walks into and really has the biggest heart. Because of him, I look at life as a giant dance party that everyone's invited to and I look forward to dancing through the rest of my life with Eric. -Tia
Help create more friendships