Friendship is an important part of a child's social‐emotional development. From our friends we learn to share, to listen, and to express our feelings. But most importantly, our friends give us a sense of belonging. Read about some amazing friendships that have been developed through The Friendship Foundation and by the support of the SKECHERS Friendship Walk.
PHOTO CREDITS: Lauren Pressey Photography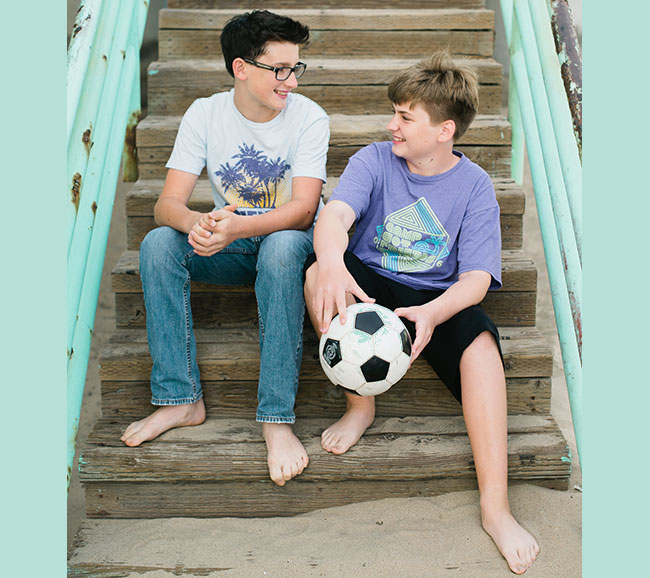 Carson & Daniel
I can't thank the Friendship Foundation enough for allowing my brother and I to be a part of their organization. We got involved with the Friendship Foundation around 2010 because my parents thought it was a good cause. At first, I wasn't so interested, but when I started to actually go to the events, I really enjoyed it. My favorite program is Birthday Club at Round Table. I like going to this because I get to spend quality time with my buddy, no matter who they are. I also like to go to movie night. I like going because I get to watch a movie with my buddy and we can talk about whatever we want. I really like playing after the movie too. Friendship Foundation means a lot to me. I volunteer at least twice a month, maybe three. When my mother worked at Mychal's Learning Place (where they have programs for kids with special needs), I used to go there to visit and help out with the after school program and sometimes see some of the same kids from FF that recognized me and I'd get to hang out with… which was really cool!
My favorite buddy is Daniel Fischer. The first time we met was at one of my first Birthday Club events. Daniel and I can do anything and have a good time. If we are at Birthday Club, we'd play games in the arcade, laugh and joke around. After that we usually eat some pizza and cupcakes. Our friendship means a lot to me. Whenever I go to an event, I always ask if Daniel is there so I could be buddies with him. After hanging out with Daniel, I always have a good feeling inside me. -Carson
Help create more friendships