Friendship is an important part of a child's social‐emotional development. From our friends we learn to share, to listen, and to express our feelings. But most importantly, our friends give us a sense of belonging. Read about some amazing friendships that have been developed through The Friendship Foundation and by the support of the SKECHERS Friendship Walk.
PHOTO CREDITS: Lauren Pressey Photography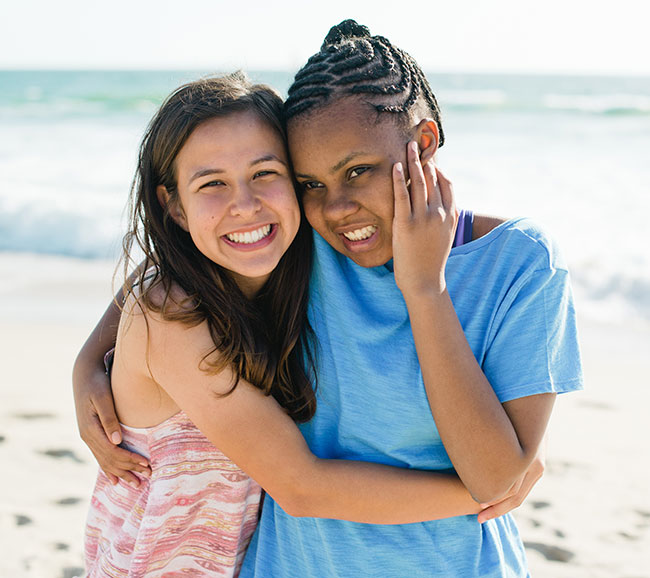 Joei & Layla
I am proud to say I started with Friendship Foundation the same year they started Camp Got Friends. I enjoy all the different activities and events the Friendship Foundation has to offer. Watching the kids become comfortable around you and accept you as a friend is the best feeling ever. I can't see myself spending the summers with a better group of people than those at the Friendship Foundation. They truly are my second family. The staff is beyond amazing but the kids are what keep me coming back. I know all the people and friends I meet here will continue to teach me to be a better person. Volunteering at the Friendship Foundation has been an amazing journey and I am honored to be a part of it.
The first time I met Layla was her first time participating at Camp Got Friends. She was shy in the beginning. Luckily she really enjoyed dance class and it became one of our favorite activities together. We both love to dance and listen to music. Layla has the sweetest smile and is a great dancer. We had so much fun during that week. Camp ended with a big carnival. We won lots of prizes at the game booths and we ate lots of cotton candy and shaved ice. I am glad we became friends during the summer and I can't wait to see her at the next program. -Joei
Help create more friendships